AC7C. Stay Current—Planet-Star Systems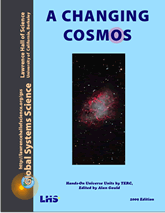 Asteroid visualization (YouTube) – an animation of the solar system showing asteroid discoveries starting in 1980. Earth Crossers are Red. Earth Approachers (Perihelion less than 1.3AU) are Yellow. All Others are Green.
Articles from 2021–present
2023-01-13. Space Dodgers. [https://www.washingtonpost.com/technology/interactive/2023/space-debris-game/] By Shikha Subramaniam, Rekha Tenjarla and Christian Davenport, The Washington Post. Excerpt: …the space above Earth has been flooded with thousands of satellites, spent rocket stages and the debris from several catastrophic events. As a result, Earth's lower orbit has been littered with an increasing amount of junk that is careening through space at intense speeds, threatening satellites and even the International Space Station. Last year, the problem became serious enough to prompt the Biden administration to call for the abolishment of tests that destroy satellites in orbit. The announcement came after Russia blew up a dead satellite in 2021, creating a massive debris field that threatened the ISS astronauts along with other satellites. …Every year there are dozens of near-collisions between active satellites or pieces of debris. …There are more than 6,000 active satellites rotating around Earth as of Jan. 9, according to LeoLabs, a company that tracks satellites and debris in Earth's lower orbit. …The United States and private companies like LeoLabs track tens of thousands of pieces of space debris, including operational and non-operational satellites, rocket stages and unknown objects. But there are many more pieces too small to see. NASA estimates that there are roughly 500,000 objects between 1 and 10 centimeters in diameter orbiting Earth, and that there are more than 100 million particles larger than 1 millimeter. (The agency said that as of January last year, the amount of material in orbit was more than 9,000 metric tons.)…
2023-01-04. Marine Science Goes to Space. [https://eos.org/features/marine-science-goes-to-space] By Damond Benningfield, Eos/AGU. Excerpt: Cassini discoveries added Enceladus to a growing list of possible ocean worlds in our own solar system—bodies with large amounts of liquid water hidden from view. Some of them could contain more water than all of Earth's oceans combined. And in addition to Enceladus, planetary scientists have counted at least one other member of the list, Jupiter's moon Europa, among the ranks of the "possibly habitable." "There could be life in our own solar system, and we may already have flown past it," said Christopher German, a senior scientist at Woods Hole Oceanographic Institutionand a coleader of Network for Ocean Worlds (NOW), a NASA-funded effort to advance research on these intriguing bodies. "Instead of just a sci-fi thing, suddenly we have grounds for wondering if there's life on these nearby worlds—places we have the technology to reach." …German said scientists have identified five "confirmed" ocean worlds beyond Earth: Jupiter's moons Callisto, Europa, and Ganymede and Saturn's moons Enceladus and Titan. That list could be just the tip of the planetary iceberg, however. "There are probably 20 candidates from places that haven't been studied closely since the Voyagermissions of the 1980s," German said….
-01-03. Space Missions to Watch in 2023. [https://skyandtelescope.org/astronomy-blogs/space-missions-to-watch-in-2023/] By Sky & Telescope. Excerpts: …SpaceX's Starship …Axiom Space's AX2 … to the International Space Station …ESA's Euclid space telescope …an infrared instrument, aimed at studying dark matter and dark energy …Indian Space Research Organization (ISRO) …X-ray Polarimeter Satellite, …and the Aditya L1 solar mission, headed to the Earth-Sun L1 point. …China's Xuntian Space Telescope, a sky survey telescope …China also plans to launch two X-ray telescopes in 2023 …The Moon will be bustling in 2023. Three missions [to the Moon] are at least partially NASA-funded through its Commercial Lunar Payload Services. …The Polar Resources Ice Mining Experiment (PRIME 1) is set to launch in June, carrying with it The Regolith and Ice Drill for Exploring New Terrain. The TRIDENT drill will delve three feet deep to bring lunar regolith up to the surface. …[Russian] Roscosmos' Luna 25 lander …India …Chandrayaan 3 …German-based Rocket Factory Augsburg might also send up a small lunar orbiter, named Harmony …A Google Xprize alumnus, ALINA will land near the Apollo 17 landing site. …Japan Aerospace Exploration Agency's Smart Lander for Investigating the Moon (SLIM) …ESA's Jupiter Icy Moons Explorer (JUICE) will …arrive at Jupiter in October 2029. …NASA's Psyche will depart…for the enigmatic "metal asteroid" 16 Psyche. …Rocket Lab may launch MIT's ambitious Venus mission in May …drop a small probe into the Venusian atmosphere….
2022-12-20. Mars had long-lived magnetic field, extending chances for life. [https://www.science.org/content/article/mars-had-long-lived-magnetic-field-extending-chances-life] By Zack Savitsky, Science. Excerpt: Once upon a time, scientists believe, Mars was far from today's cold, inhospitable desert. Rivers carved canyons, lakes filled craters, and a magnetic field may have fended off space radiation, keeping it from eating away the atmospheric moisture. As the martian interior cooled, leading theories hold, its magnetic field died out, leaving the atmosphere undefended and ending this warm and wet period, when the planet might have hosted life. But researchers can't agree on when that happened. Now, fragments from a famous martian meteorite, studied with a new kind of quantum microscope, have yielded evidence that the planet's field persisted until 3.9 billion years ago, hundreds of millions of years longer than many had thought. The clues in the meteorite, a Mars rock that ended up on Earth after an impact blasted it from its home planet, could extend Mars's window of habitability and reconcile conflicting timelines of the planet's early history….
2022-12-13. NASA's Perseverance Rover Records the First Sounds of a Dust Devil on Mars. [https://eos.org/articles/nasas-perseverance-rover-records-the-first-sounds-of-a-dust-devil-on-mars] By Jon Kelvey, Eos/AGU. Excerpt: In a stroke of luck, the SuperCam microphone on Perseverance was turned on the moment a dust devil swept directly over the rover.…
2022-12-06. Long-Lived Lakes Reveal a History of Water on Mars. [https://eos.org/research-spotlights/long-lived-lakes-reveal-a-history-of-water-on-mars] By Sarah Derouin, Eos/AGU. Excerpt: The northern hemisphere of Mars is divided into two broadly distinctive areas: the smooth northern lowlands and the pockmarked southern highlands. The region of Arabia Terra …is thought to contain some of the planet's oldest rocks, at more than 3.7 billion years old. Among the craters in the southern highlands, valleys and paleolakes abound, exposing sedimentary and geomorphologic evidence of liquid water. However, relatively few paleolakes have been identified in Arabia Terra. Dickeson et al. …describe seven new paleolakes in the region. The researchers focused on paleolake features including lake levels, drainage catchments, fans, and lake outlets. …There was evidence of surface water inflows that filled the lakes as well as outlet streams that drained them, forming a cascading chain of lakes. The team also observed multiple past water levels within each of the paleolakes, indicating that the lakes persisted over long periods of time during the Noachian, rather than forming and disappearing quickly. To maintain the filling and drainage of the lakes, liquid water must have been common, with steady inputs into the lake system from precipitation and groundwater, the researchers concluded. The potentially habitable environment in Mars's distant past indicated by these paleolakes offers an ideal location for future astrobiology and paleoclimate studies, they suggest. (Journal of Geophysical Research: Planets, https://doi.org/10.1029/2021JE007152, 2022)….
2022-11-16. Meteorite that landed in Cotswolds may solve mystery of Earth's water. [https://www.theguardian.com/science/2022/nov/16/meteorite-that-landed-in-cotswolds-may-solve-mystery-of-earths-water] By Hannah Devlin, The Guardian. Excerpt: Water covers three-quarters of the Earth's surface and was crucial for the emergence of life, but its origins have remained a subject of active debate among scientists. Now, a 4.6bn-year-old rock that crashed on to a driveway in Gloucestershire last year has provided some of the most compelling evidence to date that water arrived on Earth from asteroids in the outer solar system….
2022-11-10. A Day in the Life Used to Be 17 Hours. [https://eos.org/articles/a-day-in-the-life-used-to-be-17-hours] By Emily Shepherd, Eos/AGU. Excerpt: The Moon was a lot closer to Earth 2.46 billion years ago, and the shorter distance contributed to shorter days. …new research has calculated the distance of the Moon 2.46 billion years ago, nearly doubling the age of the previous estimate. Because the length of the day is tightly, tidally tied to the location of the Moon, the research has also calculated how long a day lasted at the time: 17 hours. …To determine the distance of the Moon, scientists studied rhythmic patterns in Earth's orbit and axis called Milankovitch cycles, explained Margriet Lantink, a geologist at the University of Wisconsin–Madison and lead author of the new studyin the Proceedings of the National Academy of Sciences of the United States of America….
2022-10-27. Something Violently Shook the Surface of Mars. It Came From Space. [https://www.nytimes.com/2022/10/27/science/mars-meteorites-impacts-seismic.html] By Kenneth Chang, The New York Times. Excerpt: The exquisitely sensitive seismometer on NASA's InSight lander dutifully recorded the burst of seismic vibrations and then dispatched the data, a gift of science, to Earth the next day. The InSight scientists were busy celebrating the holidays. When they studied the tremor in detail in early January, it looked different from the more than 1,000 marsquakes that the stationary spacecraft had recorded during its mission to study the insides of the red planet. …In scientific papers published Thursday, scientists using data from two NASA spacecraft reveal that the seismic event was not the cracking of rocks from the internal stresses of the red planet. Instead, it was shock waves emanating from a space rock hitting Mars. The discovery will help scientists better understand what is inside Mars and serves as a reminder that just like Earth, Mars gets whacked by meteors too.…
2022-09-30. New Europa Pictures Beamed Home by NASA's Juno Spacecraft. [https://www.nytimes.com/2022/09/30/science/europa-nasa-juno-photos.html] By Kenneth Chang, The New York Times. Excerpt: Juno, a NASA spacecraft that has been orbiting Jupiter since 2016, zipped within 219 miles of Europa's surface early on Thursday, speeding by at more than 30,000 miles per hour. Less than 12 hours later, the four images taken during the flyby, the closest observations of the moon since January 2000, were back on Earth. "They're stunning, actually," said Candice J. Hansen-Koharcheck, a scientist at the Planetary Science Institute in Tucson, Ariz., who is responsible for the operation of the spacecraft's primary camera, JunoCam. …All four images were available on Juno's website.…
2022-09-23. New Webb Image Captures Clearest View of Neptune's Rings in Decades. [https://www.nasa.gov/feature/goddard/2022/new-webb-image-captures-clearest-view-of-neptune-s-rings-in-decades] By NASA Laura Betz (Goddard Space Flight Center, Greenbelt, MD), Hannah Braun and Christine Pulliam (Space Telescope Science Institute, Baltimore, MD). Excerpt: …Webb's extremely stable and precise image quality permits these very faint rings to be detected so close to Neptune. …Compared to the gas giants, Jupiter and Saturn, Neptune is much richer in elements heavier than hydrogen and helium. This is readily apparent in Neptune's signature blue appearance in Hubble Space Telescope images at visible wavelengths, caused by small amounts of gaseous methane. Webb's Near-Infrared Camera (NIRCam) images objects in the near-infrared range from 0.6 to 5 microns, so Neptune does not appear blue to Webb. In fact, the methane gas so strongly absorbs red and infrared light that the planet is quite dark at these near-infrared wavelengths, except where high-altitude clouds are present. Such methane-ice clouds are prominent as bright streaks and spots, which reflect sunlight before it is absorbed by methane gas.…
2022-08-28. Why NASA Is Going Back to the Moon. [https://www.nytimes.com/2022/08/28/science/nasa-moon-rocket-launch.html] By Kenneth Chang, The New York Times. Excerpt: …astronauts will not actually step on the moon for several years, and by that time, NASA will have spent about $100 billion…. "It's a future where NASA will land the first woman and the first person of color on the moon," Bill Nelson, the NASA administrator, said during a news conference this month. "And on these increasingly complex missions, astronauts will live and work in deep space and will develop the science and technology to send the first humans to Mars." …Today's program was named Artemis by NASA leaders during the Trump administration. In Greek mythology, Artemis was the twin sister of Apollo. …NASA is also hoping to jump-start companies looking to set up a steady business of flying scientific instruments and other payloads to the moon, and to inspire students to enter science and engineering fields.…
2022-08-22. Webb's Jupiter Images Showcase Auroras, Hazes. [https://blogs.nasa.gov/webb/2022/08/22/webbs-jupiter-images-showcase-auroras-hazes/] By Alise Fisher, NASA Webb Space Telescope. Excerpt: …NASA's James Webb Space Telescope has captured new images of [Jupiter]. …"We hadn't really expected it to be this good, to be honest," said planetary astronomer Imke de Pater, professor emerita of the University of California, Berkeley. …"It's really remarkable that we can see details on Jupiter together with its rings, tiny satellites, and even galaxies in one image," she said. The two images come from the observatory's Near-Infrared Camera (NIRCam), which has three specialized infrared filters that showcase details of the planet. Since infrared light is invisible to the human eye, the light has been mapped onto the visible spectrum. Generally, the longest wavelengths appear redder and the shortest wavelengths are shown as more blue. Scientists collaborated with citizen scientist Judy Schmidt to translate the Webb data into images. In the standalone view of Jupiter, created from a composite of several images from Webb, auroras extend to high altitudes above both the northern and southern poles of Jupiter. …The Great Red Spot, a famous storm so big it could swallow Earth, appears white in these views, as do other clouds, because they are reflecting a lot of sunlight.… See also NPR article or Washington Post article.
2022-08-01. A Unified Atmospheric Model for Uranus and Neptune. [https://eos.org/research-spotlights/a-unified-atmospheric-model-for-uranus-and-neptune] By Morgan Rehnberg, Eos/AGU. Excerpt: In a new model, three substantial atmospheric layers appear consistent between the ice giants. The ice giants, Uranus and Neptune, are the least understood planets in the solar system. They remain the only worlds that an orbital spacecraft has not visited. Our limited understanding of them derives largely from the flyby of NASA's Voyager 2 probe and subsequent observations with the Hubble Space Telescope. Yet the ice giants may be most representative of the extrasolar planets in our local vicinity. Why these planets appear so different in color despite having very similar physical properties, including vertical temperature profile and atmospheric composition, is a mystery. Past investigations have attributed Neptune's deeper blue largely to excess absorption in the red and near infrared from atmospheric methane. …Irwin et al. attempt to fill this gap by developing a single atmospheric model consistent with the spectral observations of both planets. They fit near-infrared spectra collected by Hubble, as well as the ground-based Gemini and NASA Infrared Telescope Facility(IRTF) telescopes, to a three-layer aerosol model.…
2022-06-14. Zhurong Rover Spots Evidence of Recent Liquid Water on Mars. [https://eos.org/articles/zhurong-rover-spots-evidence-of-recent-liquid-water-on-mars] By Katherine Kornei, Eos/AGU. Excerpt: Mars is hardly a verdant world today, yet evidence abounds that liquid water once flowed over the Red Planet. Now, the latest rover to arrive on Mars's surface—Zhurong, part of China's Tianwen-1 mission—has spotted hydrated minerals that point to liquid water persisting well into the Red Planet's most recent geologic period. These results, published in Science Advances, contribute to our understanding of when liquid water flowed on Mars, the research team has suggested.…
2022-04-01. What Sounds Captured by NASA's Perseverance Rover Reveal About Mars. By NASA News. Excerpt: A new study based on recordings made by the rover finds that the speed of sound is slower on the Red Planet than on Earth and that, mostly, a deep silence prevails. ​Listen closely to sounds from Mars, recorded by NASA's Perseverance: the rover's mechanical whine and click in a light Martian wind; the whir of rotors on Ingenuity, the Mars helicopter; the crackling strike of a rock-zapping laser. An international team of scientists has done just that, performing the first analysis of acoustics on the Red Planet. Their new study reveals how fast sound travels through the extremely thin, mostly carbon dioxide atmosphere, how Mars might sound to human ears, and how scientists can use audio recordings to probe subtle air-pressure changes on another world – and to gauge the health of the rover. …Most of the sounds in the study, published April 1 in the journal Nature, were recorded using the microphone on Perseverance's SuperCam, mounted on the head of the rover's mast. … [https://mars.nasa.gov/news/9158/what-sounds-captured-by-nasas-perseverance-rover-reveal-about-mars/]
2022-02-15. On Mars, a Year of Surprise and Discovery. By Kenneth Chang, The New York Times. Excerpt: …NASA's Perseverance rover …On Feb. 18 last year, the spacecraft carrying the rover pierced the Martian atmosphere at 13,000 miles per hour. …Twelve months later, Perseverance is nestled within a 28-mile-wide crater known as Jezero. From the topography, it is evident that more than three billion years ago, Jezero was a body of water roughly the size of Lake Tahoe, with rivers flowing in from the west and out to the east. One of the first things Perseverance did was deploy Ingenuity, a small robotic helicopter and the first such flying machine to take off on another planet. Perseverance also demonstrated a technology for generating oxygen that will be crucial whenever astronauts finally make it to Mars. The rover then set off on a diversion from the original exploration plans, to study the floor of the crater it landed in. …collect cores of rock — cylinders about the size of sticks of chalk — that are eventually to be brought back to Earth by a future mission [Mars Sample Return]. …data confirm that what orbital images suggested was a river delta is indeed that and that the history of water here was complex. The boulders, which almost certainly came from the surrounding highlands, point to episodes of violent flooding at Jezero. …On April 18 last year, Ingenuity rose to a height of 10 feet, hovered for 30 seconds, and then descended back to the ground. The flight lasted 39.1 seconds. …NASA decided five flights were not enough. When Perseverance set off to explore the rocks to the south, Ingenuity went along, now scouting the terrain ahead of the rover. …During the development of Perseverance's drill, engineers tested it with a wide variety of Earth rocks. But then the very first rock on Mars that Perseverance tried to drill turned out to be unlike all of the Earth rocks. The rock in essence turned to dust during the drilling and slid out of the tube.… [https://www.nytimes.com/2022/02/15/science/mars-nasa-perseverance.html]
2022-02-10. To Make a Big Moon, Start with a Small Planet. By Kimberly M. S. Cartier, Eos/AGU. Excerpt: In a contest of which planet in the solar system has the most relatively massive moon, Earth takes the prize. The Moon is roughly 1% of Earth's mass, whereas the moons of all the remaining moon-bearing planets—that's all of them save for Mercury and Venus—are less than one ten thousandth their planets' masses. …"We think that a giant impact is a very efficient way to form fractionally large moons," said Miki Nakajima, a planetary scientist at the University of Rochester in New York. Large collisions are thought to be a common occurrence in the chaos of a still-forming solar system, but if all giant impacts formed fractionally large moons, our solar system would be rife with them. …Using computer simulations, Nakajima and her colleagues explored what happens when rocky or icy would-be planets of various sizes collide. The researchers found that after such a major impact, only rocky planets less than 6 times Earth's mass and icy planets less than 1 Earth mass can form a fractionally large moon out of the collision debris. They published these results in Nature Communications on 1 February.… [https://eos.org/articles/to-make-a-big-moon-start-with-a-small-planet]
2022-01-21. An Ocean May Lurk Inside Saturn's 'Death Star' Moon. By Kenneth Chang, The New York Times. Excerpt: …For eight years, scientists have been considering that Mimas, seemingly a pockmarked ball of ice frozen hard, might be hiding a secret: an ocean flowing 14 to 20 miles below the surface. In recent years, such ocean worlds — Europa at Jupiter and Enceladus at Saturn, to name two — have jumped to the top of the lists for scientists who are considering places in the solar system where life could have arisen. One NASA spacecraft, Juno, will swoop past Europa for a closer look this year and another mission, Europa Clipper, is to arrive for a dedicated mission there in 2030. But unlike other icy moons known to possess under-ice oceans, Mimas has a surface that offers no hints of cracks or melting that might suggest sloshiness within. It also stretched scientific credulity that the interior of a moon as small as Mimas could be warm enough for an ocean to remain unfrozen. …A planetary scientist who thought the idea of a Mimas ocean was unlikely now finds the thermodynamics to be plausible. …The results were published this week in the journal Icarus.… [https://www.nytimes.com/2022/01/21/science/mimas-ocean-death-star.html]
2022-01-17. Mars rover detects carbon signature that hints at past life source. By Paul Voosen, Science Magazine. Excerpt: Since 2012, NASA's Curiosity rover has trundled across Mars, drilling into rocks and running the grit through a sophisticated onboard chemistry lab, aiming to tease out evidence for life. Today, a team of rover scientists announced an intriguing signal, one that may or may not be evidence of past life, but is, at the very least, surprisingly weird. The team found that the carbon trapped in a handful of rocks probed by the rover is dramatically enriched in light isotopes of carbon. On Earth, the signal would be seen as strong evidence for ancient microbial life. Given that this is Mars, however, the researchers are reluctant to make any grand claims, and they have worked hard to concoct alternative, nonbiological explanations involving ultraviolet (UV) light and stardust. But those alternatives are at least as far-fetched as a scenario in which subterranean microbes emitted the enriched carbon as methane gas. The team concludes the study does "inch up the plausibility" that microbes once existed on the planet—and could still today, says Christopher House, a biogeochemist at Pennsylvania State University, University Park, and lead author of the study, which was published todayin the Proceedings of the National Academy of Sciences.… [https://www.science.org/content/article/mars-rover-detects-carbon-signature-hints-past-life-source]
2022-01-05. Stars may form 10 times faster than thought. Ling Xin, Science Magazine. Excerpt: Astronomers have long thought it takes millions of years for the seeds of stars like the Sun to come together. Clouds of mostly hydrogen gas coalesce under gravity into prestellar cores dense enough to collapse and spark nuclear fusion, while magnetic forces hold matter in place and slow down the process. But observations using the world's largest radio telescope are casting doubt on this long gestational period. Researchers have zoomed in on a prestellar core in a giant gas cloud—a nursery for hundreds of baby stars—and found the tiny embryo may be forming 10 times faster than thought, thanks to weak magnetic fields. "If this is proven to be the case in other gas clouds, it will be revolutionary for the star formation community," says Paola Caselli from the Max Planck Institute for Extraterrestrial Physics, who was not involved with the research.… [https://www.science.org/content/article/stars-may-form-10-times-faster-thought]
2021-12-16. Opening a 50-year-old Christmas present from the Moon. By European Space Agency. Excerpt: A pretty special gift unwrapping will soon take place – a piercing tool built by ESA will open a Moon soil container from Apollo 17 that has gone untouched for nearly 50 years. The opening will allow the extraction of precious lunar gases which may have been preserved in the sample.… [https://www.esa.int/Science_Exploration/Human_and_Robotic_Exploration/Opening_a_50-year-old_Christmas_present_from_the_Moon]
2021-11-11. It Follows Earth Around the Sun. Just Don't Call It a Moon. By Robin George Andrews, The New York Times. Excerpt: …a little rock would decide to tag along with Earth and the moon on their yearly circumnavigation of the sun. Said rock, 165 feet long, was discovered in 2016 by Hawaii's Pan-STARRS 1 asteroid-hunting telescope. This eccentric entity's Hawaiian name, (469219) Kamoʻoalewa, means "wobbling celestial object." As it repeatedly loops around Earth, this shy body never gets closer than 9 million miles, which is 38 times farther out than the moon. It gets as distant as 25 million miles away before swinging back around for a closer encounter. Calculations of its orbital waltz indicate that it began trailing our planet in a relatively stable manner about a century ago, and it will continue to pirouette around Earth for several centuries to come. …in a paper published Thursday in Communications Earth & Environment, a team of scientists reported … that it appears to be made of the same sort of frozen magmatic matter found on the lunar surface.… [https://www.nytimes.com/2021/11/11/science/moon-kamooalewa-asteroid.html?referringSource=articleShare]
2021-10-14. Meteorite Crashes Through Ceiling and Lands on Woman's Bed. By John Yoon and Vjosa Isai, The New York Times. Excerpt: Ruth Hamilton was fast asleep in her home in British Columbia when she awoke to the sound of her dog barking, followed by "an explosion." She jumped up and turned on the light, only to see a hole in the ceiling. Her clock said 11:35 p.m. …"Oh, my gosh," she recalled telling the operator, "there's a rock in my bed." A meteorite, she later learned. The 2.8-pound rock the size of a large man's fist had barely missed Ms. Hamilton's head, leaving "drywall debris all over my face," she said. Her close encounter on the night of Oct. 3 left her rattled, but it captivated the internet and handed scientists an unusual chance to study a space rock that had crashed to Earth.… [https://www.nytimes.com/2021/10/14/world/canada/meteorite-bed.html]
2021-09-17. A new fleet of Moon landers will set sail next year, backed by private companies. Source: By Joel Goldberg, Science Magazine. Excerpt: Who knew outsourcing could extend to outer space? In some ways, that's the aim of NASA's $2.6 billion initiative meant to galvanize the private sector's development of Moon landers and rovers. The Commercial Lunar Payload Services program has tasked a number of companies—including Pittsburgh-based Astrobotic—with delivering landers to the Moon's surface twice a year. Astrobotic's Peregrine lander, roughly the size of a tree house, is set to blast off this year from Cape Canaveral, Florida, as is Houston-based Intuitive Machines's Nova-C. A second Astrobotic lander, Griffin, is expected to launch in 2023, ferrying the well-equipped, NASA-designed Volatiles Investigating Polar Exploration Rover. Its neutron counter, spectrometers, and specialized drill will seek out evidence of water and attempt to identify its origin. …another Texas-based company, Firefly Aerospace, will deliver tools to study the Moon's interior heat and another to snap the first extraterrestrial photo of Earth's magnetic field.… [https://www.science.org/content/article/new-fleet-moon-landers-will-set-sail-next-year-backed-private-companies]
2021-06-01. [https://eos.org/articles/fifteen-years-of-radar-reveal-venuss-most-basic-facts] – Fifteen Years of Radar Reveal Venus's Most Basic Facts. Source: By Kimberly M. S. Cartier, Eos/AGU. Excerpt: Venus's heavy atmosphere tugs the planet's surface enough to change the length of its day by up to 21 minutes [per day]. …In a recent paper in Nature Astronomy, astronomers used 15 years of radar measurements to reveal a few of these fundamental properties of our closest planetary neighbor that have long remained elusive. …The 70-meter radio antenna at the Goldstone Deep Space Communications Complex in California served as the flashlight, …The researchers carefully measured the timing of the returned waves with two radio telescopes: Goldstone in California and the Green Bank Telescope in West Virginia. …they found that Venus's spin axis is tilted 2.6392° from its orbital plane and that tilt precesses once every 29,000 Earth years, 3,000 years longer than Earth's precession. These measurements are 5–15 times more precise than what was achieved by NASA's Magellan missionto Venus, which ended in 1994…. …They found that the 15-year average length of day on Venus is 243.0226 Earth days (243 days, 32 minutes, and 30 seconds). …their individual measurements of the length of a Venusian day varied by about 3 minutes when measured on consecutive Earth days and up to 21 minutes over the 15-year study period. (Earth's length of day varies by about 4 milliseconds averaged over 20 years.) …The momentum needed to change Venus's rotation speed by such a large amount can only be provided by the planet's thick atmosphere. Momentum transferred from Earth's atmosphere can lurch the length of a day by a few milliseconds at most, but Venus's atmosphere has 100 times more mass than Earth's does and 180 times the momentum. The viscous atmosphere rotates faster than the rest of the planet does, and as it sloshes around, it exchanges momentum with the surface below and changes the surface's rotation speed….
2021-05-15.[https://www.washingtonpost.com/world/2021/05/15/china-mars-rover/] – China lands rover on Mars in 'milestone' achievement. Source: By Antonia Noori Farzan, The Washington Post. Excerpt: China successfully landed a rover-carrying spacecraft on Mars for the first time, state-run media reported Saturday, marking another major victory for the country's ambitious space program…. China now joins the United States as the only other nations to have successfully landed and operated rovers on Mars, and Chinese President Xi Jinping hailed a "milestone" achievement. The Tianwen-1 spacecraft, launched from the Chinese province of Hainan in July, has been orbiting Mars since February while looking for potential landing sites. Early Saturday, it released an entry capsule containing a lander and a rover that began to plummet through the Mars atmosphere, according to state-run Xinhua News Agency. The entry capsule safely touched down in a flat plane on Mars' surface at 7:18 a.m. Beijing time (7:18 p.m. Friday Eastern time), though it took about an hour for ground controllers to determine that the mission had been a success, state media reported…. See also New York Times article [https://www.nytimes.com/2021/05/14/science/china-mars.html]

2021-05-07. NASA Mars Helicopter Makes One-Way Flight to New Mission. By Kenneth Chang, The New York Times. Excerpt: On Friday, Ingenuity, which last month became the first machine to fly like an airplane or a helicopter on another world, took off for the fifth time. It made a successful one-way trip to another flat patch of Mars more than the length of a football field away. The spot where it landed will serve as its base of operations for the next month at least, beginning a new phase of the mission where it will serve as a scout for its larger robotic companion, the Perseverance rover…. [https://www.nytimes.com/2021/05/07/science/mars-helicopter-nasa-ingenuity.html]

2021-04-19. NASA's Mars Helicopter Completes First Flight on Another Planet. By Kenneth Chang, The New York Times. Excerpt: A small robotic helicopter named Ingenuity made space exploration history on Monday when it lifted off the surface of Mars and hovered in the wispy air of the red planet. It was the first machine from Earth ever to fly like an airplane or a helicopter on another world. …Like the first flight of an airplane by Wilbur and Orville Wright in 1903, the flight did not go far or last long, but it showed what could be done. Flying in the thin atmosphere of Mars was a particularly tricky technical endeavor, on the edge of impossible because there is almost no air to push against. NASA engineers employed ultralight materials, fast-spinning blades and high-powered computer processing to get Ingenuity off the ground and keep it from veering off and crashing…. [https://www.nytimes.com/2021/04/19/science/nasa-mars-helicopter.html] See also April 22 NY Times article, NASA's Mars Ingenuity Helicopter Completes Second Flight.
2021-03-23. Remains of impact that created the Moon may lie deep within Earth. By Paul Voosen. Excerpt: Scientists have long agreed that the Moon formed when a protoplanet, called Theia, struck Earth in its infancy some 4.5 billion years ago. Now, a team of scientists has a provocative new proposal: Theia's remains can be found in two continent-size layers of rock buried deep in Earth's mantle. For decades, seismologists have puzzled over these two blobs, which sit below West Africa and the Pacific Ocean and straddle the core like a pair of headphones. Up to 1000 kilometers tall and several times that wide, "they are the largest thing in the Earth's mantle," says Qian Yuan, a Ph.D. student in geodynamics at Arizona State University (ASU), Tempe. Seismic waves from earthquakes abruptly slow down when they pass through the layers, which suggests they are denser and chemically different from the surrounding mantle rock. …Evidence from Iceland and Samoa suggests the LLSVPs have existed since the time of the Moon-forming impact, says Sujoy Mukhopadhyay, a geochemist at the University of California (UC), Davis, who considers Yuan's idea plausible but is open to other explanations. Seismic imaging has traced plumes of magma that feed volcanoes on both islands all the way down to the LLSVPs. Over the past decade, Mukhopadhyay and others have discovered that lavas on the islands contain an isotopic record of radioactive elements that formed only during the first 100 million years of Earth history. Moreover, a new picture of the Moon-forming impactor suggests it could have delivered a cargo of dense rock deep inside Earth. The impact theory was developed in the 1970s to explain why the Moon is dry and doesn't have much of an iron core: In a cataclysmic impact, volatiles like water would have vaporized and escaped, while a ring of less dense rocks thrown up in the collision would have eventually coalesced into the Moon. The theory invoked an impactor the size of Mars or—in recent variants—much smaller. But recent work from Yuan's co-author, ASU Tempe astrophysicist Steven Desch, suggests Theia was nearly as big as Earth…. [https://www.sciencemag.org/news/2021/03/remains-impact-created-moon-may-lie-deep-within-earth]

2021-03-19. The Water on Mars Vanished. This Might Be Where It Went. By Kenneth Chang, The New York Times. Excerpt: Mars once had rivers, lakes and seas. Although the planet is now desert dry, scientists say most of the water is still there, just locked up in rocks. …most of the water, a new study concludes, went down, sucked into the red planet's rocks. And there it remains, trapped within minerals and salts. Indeed, as much as 99 percent of the water that once flowed on Mars could still be there, the researchers estimated in a paper published this week in the journal Science. Data from the past two decades of robotic missions to Mars, including NASA's Curiosity rover and the Mars Reconnaissance Orbiter, showed a wide distribution of what geologists call hydrated minerals…. [https://www.nytimes.com/2021/03/19/science/mars-water-missing.html]

2021-02-22. Martian rover sends back 'overwhelming' video, audio from the Red Planet. By Catherine Matacic, Science Magazine. Excerpt: Just four martian days after touching down on the Red Planet, NASA's Perseverance rover has sent back its first video of its new home: a 1-minute arabesque of color and motion captured from four on-board cameras, as the car-size rover dangles from its rocket-propelled descent vehicle, a red-and-white parachute snaps into place, and the pitted surface of Mars comes slowly into view, dark canyons giving way to ripples of dust that look like giant, rust-colored dunes (see video, above). But perhaps even more thrilling, an unexpected gift arrived along with the video and the thousands of new images that were downloaded over the weekend: the first sound recording taken from the surface of Mars…. [https://www.sciencemag.org/news/2021/02/martian-rover-sends-back-overwhelming-video-audio-red-planet] See also Perseverance's 'sky crane' captures Mars descent.
2021-02-18. 'Touchdown confirmed!' Perseverance landing marks new dawn for Mars science. By Paul Voosen, Science Magazine. Excerpt: It's a new day on Mars. NASA's $2.7 billion Perseverance rover has successfully landed in Jezero crater, alighting just 35 meters away from hazardous boulders it had identified during descent. At about 3:55 p.m. EST, confirmation came back of the rover safely touching its wheels down, resulting in exuberant but socially distanced applause from double-masked engineers at the mission's control room at the Jet Propulsion Laboratory (JPL)…. [https://www.sciencemag.org/news/2021/02/touchdown-confirmed-perseverance-landing-marks-new-dawn-mars-science] See also Perseverance's 'sky crane' captures Mars descent; and New York Times article Perseverance's Pictures From Mars Show NASA Rover's New Home.

2021-02-06. Martian New Year on Sunday a second chance to start fresh, Earthling. By Chris Knight, The Telegram. Excerpt: …Feb. 7 [2021] marks the beginning of [Martian] year 36. Back at the turn of the (Earth) century …scientists decided they needed a way to count Martian years. Earth years wouldn't do, since Mars takes 687 days to circle the sun. They picked the Martian spring equinox of 1955 as the start of year one. …Mars, like Earth, has an elliptical orbit that brings it closer to the sun at certain points of the year. It also has an axial tilt of 25 degrees. (Earth's is just over 23.) Together this creates seasons, with variations in temperature, sunlight and even air pressure, since some of the thin carbon dioxide atmosphere freezes at the poles in the winter. …the overlap of tilt and orbit means northern Martian winters are significantly milder than in the south, with repercussions on any rovers operating in that hemisphere. …Mars has its own days, commonly called sols. …Nick Peper, a systems engineer on the team that operates the Curiosity rover, notes that a sol is almost the same length as a day, but that slight difference can cause problems. Earth's day is 23 hours and 56 minutes long, the rounding of which gives us a leap day every four years. But a sol is 24 hours 39 minutes, or about 3% longer than a day. About once a month, the two line up briefly. …To keep Martian morning from drifting away from the actual sunrise, scientists merely lengthen each second, minute and hour on Mars by a factor of 1.02749. So a sol on Mars is 24 hours long, but every hour is a little long than its equivalent on Earth. It's a good fix, though perhaps not as poetic as the one imagined by science-fiction author Kim Stanley Robinson, who in his Mars trilogy writes of "the timeslip," when clocks stop every sol at midnight for 39 minutes. …"It's just close enough to lull you into thinking they're the same length," Peper says of Martian time units. "And just far enough apart to mess you up." …Curiosity recently passed its 3,000th sol on Mars…. [https://www.thetelegram.com/lifestyles/entertainment/martian-new-year-on-sunday-a-second-chance-to-start-fresh-earthling-549591/] See also Martian Time Lookup, Mars clock, and EarthSky article
Upcoming Martian New Years:
37 – Dec 26 2022
38 – Nov 12 2024
39 – Sep 30 2026
40 – Aug 17 2028