CC10C. Staying Current—What Do You Think About Global Climate Change?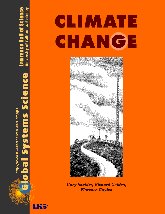 Articles from 2023 (most recent)
2023-03-21. Eight things the world must do to avoid the worst of climate change. [https://www.theguardian.com/environment/2023/mar/21/methane-to-food-waste-eight-ways-to-attempt-to-stay-within-15c] By Fiona Harvey, The Guardian. Excerpt: The Intergovernmental Panel on Climate Change published the "synthesis report" of its sixth assessment report (AR6) on Monday. Eight years in preparation, this mammoth report encompasses the entire range of human knowledge of the climate system, compiled by hundreds of scientists from thousands of academic papers, and published in four parts, in August 2021, February and April 2022, and March 2023. …key measures that governments and countries must take immediately if we are to avoid climate catastrophe: Reduce methane …Stop deforestation …Restore other degraded land, and stop it being turned to agriculture …Change agriculture, and change the way we eat …Solar and wind power …Energy efficiency …Stop burning coal …Put climate at the heart of all decision-making….
2023-03-20. A Different Kind of Pipeline Project Scrambles Midwest Politics. [https://www.nytimes.com/2023/03/20/us/carbon-dioxide-ethanol-underground-midwest.html] By Mitch Smith, The New York Times. Excerpt: For more than a decade, the Midwest was the site of bitter clashes over plans for thousand-mile pipelines meant to carry crude oil beneath cornfields and cattle ranches. Now high-dollar pipeline fights are happening again, but with a twist. Instead of oil, these projects would carry millions of tons of carbon dioxide from ethanol plants to be injected into underground rock formations rather than dispersed as pollutants in the air. What is playing out is a very different kind of environmental battle, a huge test not just for farmers and landowners but for emerging technologies promoted as ways to safely store planet-warming carbon. …Supporters… say the pipelines… would lower carbon emissions while aiding the agricultural economy through continued ethanol production. …opponents are concerned about property rights and safety, and are not convinced of the projects' claimed environmental benefits….
2023-03-19. How Does Carbon Capture Work? [https://www.nytimes.com/interactive/2023/03/19/us/carbon-capture.html] By Eden Weingart, The New York Times. Excerpt: …Carbon capture is an umbrella term for technologies, some of them first proposed in the 1980s, that aim to take carbon dioxide out of the atmosphere or catch emissions and store them before they are released into the air. …Encouraged by tax incentives included in the Inflation Reduction Act, some companies have proposed projects in the United States to capture CO2 and either use it or store it deep underground. Those proposals have been met with skepticism, though, by some environmentalists who say carbon capture could distract from efforts to reduce emissions in the first place. …Efforts to plant trees and other small-scale experiments are happening around the country. And two larger-scale methods are being developed: post-combustion capture and direct air capture….
2023-03-12. Silicon Valley Bank Collapse Threatens Climate Start-Ups. [https://www.nytimes.com/2023/03/12/climate/silicon-valley-bank-climate.html] By David Gelles, The New York Times. Excerpt: As the fallout of the collapse of Silicon Valley Bank continued to spread over the weekend, it became clear that some of the worst casualties were companies developing solutions for the climate crisis. The bank, the largest to fail since 2008, worked with more than 1,550 technology firms that are creating solar, hydrogen and battery storage projects. According to its website, the bank issued them billions in loans. …Community solar projects appear to be especially hard hit. Silicon Valley Bank said that it led or participated in 62 percent of financing deals for community solar projects, which are smaller-scale solar projects that often serve lower-income residential areas. …There are signs that, when the dust settles, the climate tech industry will have a new lender of choice….
2023-03-06. Meat, dairy and rice production will bust 1.5C climate target, shows study. [https://www.theguardian.com/environment/2023/mar/06/meat-dairy-rice-high-methane-food-production-bust-climate-target-study] By Damian Carrington, The Guardian. Excerpt: …Climate-heating emissions from food production, dominated by meat, dairy and rice, will by themselves break the key international target of 1.5C if left unchecked, a detailed study has shown. …the scientists said the temperature rise could be cut by 55% by cutting meat consumption in rich countries to medically recommended levels, reducing emissions from livestock and their manure, and using renewable energy in the food system. …The research, published in the journal Nature Climate Change, treated each greenhouse gas separately for 94 key types of food, enabling their impact on climate over time to be better understood. Feeding this emissions data into a widely used climate model showed that the continuation of today's food production would lead to a rise of 0.7C by 2100 if global population growth was low, and a 0.9C rise if population growth was high….
2023-02-14. The Global Health Benefits of Going Net Zero. [https://eos.org/research-spotlights/the-global-health-benefits-of-going-net-zero] By Kirsten Steinke, Eos/AGU. Excerpt: Fossil fuel combustion produces greenhouse gases that heat the planet, but it also emits air pollutants that harm human health. Fine particulate matter and ozone, for example, have been linked to fatal lung and heart issues. And a recent study published in GeoHealth adds to the growing body of research that shows that when countries reduce their greenhouse gas emissions, the associated improvements in air quality could save countless lives. …The team concluded that particulate matter and ozone caused more than 2.2 million premature deaths each year in G20 countries. Reducing emissions in these countries from power plants alone could reduce that death toll by nearly 300,000 lives by 2040….
2023-02-14. Could solar geoengineering cool the planet? U.S. gets serious about finding out. [https://www.science.org/content/article/could-solar-geoengineering-cool-planet-u-s-gets-serious-about-finding-out] By Paul Voosen, Science. Excerpt: Any work on solar geoengineering—the notion of artificially making the atmosphere more reflective to cool an overheated planet—is fraught with controversy. …The U.S. National Oceanic and Atmospheric Administration (NOAA) is venturing …to understand the types, amounts, and behavior of particles naturally present in the stratosphere. …Research on solar geoengineering—also called solar radiation management—has long been anathema to some climate scientists and activists. They fear it could distract from emissions cuts, could have unforeseen risks, and would not address some impacts of rising carbon dioxide, including ocean acidification. Federal agencies have largely steered clear of the work, even after a report from the National Academies of Sciences, Engineering, and Medicine (NASEM) in 2021 recommended a $200 million research program. …They want to study how such ­sulfur interacts with organic particles such as soot and the dust of meteorites. Rosenlof says they will also study how soot absorbs the Sun's heat, causing air parcels to rise and prolonging particle lifetimes in the stratosphere….
2023-02-08. 'They get the big picture': the Swedish tech startup helping cities go green. [https://www.theguardian.com/technology/2023/feb/08/they-get-the-big-picture-the-swedish-tech-startup-helping-cities-go-green] By Jon Henley ,The Guardian. Excerpt: Online tool …used in eight countries by a rapidly lengthening list of cities – now more than 50 – including Helsingborg and Malmö in Sweden, Madrid in Spain, Kiel and Mannheim in Germany, Cincinnati in the US, and Bristol and Nottingham in the UK. … "Cities account for more than 70% of global CO2 emissions," Shalit said. "They are clearly critical to climate action, but they are also complex and highly interconnected systems – and they really lacked the tools to plan and manage their transition." ClimateOS, the integrated platform developed by Shalit's Stockholm-based startup, ClimateView, aims to help cities plan and manage their transition to zero carbon by breaking it down into distinct but interconnected "building blocks"….
2023-02-01. The Role of Insurance in Climate Adaptation. [https://eos.org/articles/the-role-of-insurance-in-climate-adaption] By Jenessa Duncombe, Eos/AGU. Excerpt: A new study highlights a way to stave off economic effects by promoting a widespread public insurance plan for Americans. The research supports the growing movement to use insurance­­—a key tool for managing society's risk—as a form of climate adaptation. …The hypothetical insurance scheme used in the model is a mandatory nonprofit government-offered policy that is available everywhere at a flat fee. The scheme uses the average rate of insured losses from U.S. hurricanes over the past several decades (50%) tallied by the natural disaster database NatCatSERVICE from the German-based insurance company Munich Re. …a close analog is the National Flood Insurance Program from the Federal Emergency Management Agency (FEMA). But the program isn't compulsory and isn't available to everyone….
2023-01-31. Emissions divide now greater within countries than between them – study. [https://www.theguardian.com/environment/2023/jan/31/emissions-divide-now-greater-within-countries-than-between-them-study] By Fiona Harvey, The Guardian. Excerpt: The difference between the carbon emissions of the rich and the poor within a country is now greater than the differences in emissions between countries, data shows. The finding is further evidence of the growing divide between the "polluting elite" of rich people around the world, and the relatively low responsibility for emissions among the rest of the population. It also shows there is plenty of room for the poorest in the world to increase their greenhouse gas emissions if needed to reach prosperity, if rich people globally – including some in developing countries – reduce theirs, the analysis has found. …a growing body of work suggests that a "polluting elite" of those on the highest incomes globally are vastly outweighing the emissions of the poor. …rich people in developing countries have much bigger carbon footprints than was previously acknowledged. In a report entitled Climate Inequality Report 2023, economists from the World Inequality Lab dissect where carbon emissions are currently coming from. The World Inequality Lab is co-directed by the influential economist Thomas Piketty, the author of Capital in the Twenty-first Century, whose work following the financial crisis more than a decade ago helped to popularise the idea of "the 1%", a global high-income group whose interests are favoured by current economic systems….
2023-01-23. I tried lab-grown meat made from animals without killing them – is this the future of ethical eating?. [https://www.theguardian.com/environment/2023/jan/23/lab-grown-meat-animals-climate] By Oliver Milman, The Guardian. Excerpt: The meat … came from a named pig, an affable-looking swine called Dawn. …a clump of her cells were grown in a lab to create what's known as "cultivated meat", a product touted as far better for the climate – as well as the mortal concerns of pigs and cows – and is set for takeoff in the US. …"A harmless sample from one pig can produce many millions of tons of product without requiring us to raise and slaughter an animal each time," said Eitan Fischer, founder of Mission Barns, a maker of cultivated meat that invited the Guardian to a taste test in an upscale Manhattan hotel. …Mission Barns is one of about 80 startup companies based around San Francisco's Bay Area now jostling for position after one of their number, Upside Foods, became the first in the country to be granted approval by the Food and Drug Administration (FDA) in November, a key step in allowing the sale of cultivated meat in the US. On Monday, Upside said it aims to start selling its cultivated chicken in restaurants this year, and in grocery stores by 2028. …In December, a company called Believer Meats broke ground on a $123m facility in North Carolina it claims will be the largest cultivated meat plant in the world, set to churn out 10,000 tons of product once operational. …the "world is experiencing a food revolution", as the FDA put it, with the rise of cultivated meat holding the promise of slashing the meat industry's ruinous planet-heating emissions and shrinking its voracious appetite for land, as well as sparing livestock the barbarity of factory farming. …The raising and slaughter of livestock is responsible for more than half of the greenhouse gas pollution of the entire food sector, which in itself is estimated to contribute around a third of total global emissions….
2023-01-20. 'Super-tipping points' could trigger cascade of climate action. [https://www.theguardian.com/environment/2023/jan/20/super-tipping-points-climate-electric-cars-meat-emissions] By Damian Carrington, The Guardian. Excerpt: …Three "super-tipping points" for climate action could trigger a cascade of decarbonisation across the global economy, according to a report. Relatively small policy interventions on electric cars, plant-based alternatives to meat and green fertilisers would lead to unstoppable growth in those sectors, the experts said. But the boost this would give to battery and hydrogen production would mean crucial knock-on benefits for other sectors including energy storage and aviation. …The tipping points occur when a zero-carbon solution becomes more competitive than the existing high-carbon option. More sales lead to cheaper products, creating feedback loops that drive exponential growth and a rapid takeover. The report, launched at the World Economic Forum in Davos, Switzerland, said the three super-tipping points would cut emissions in sectors covering 70% of global greenhouse gas emissions….
2023-01-17. Banks still investing heavily in fossil fuels despite net zero pledges – study. [https://www.theguardian.com/environment/2023/jan/17/banks-still-investing-heavily-in-fossil-fuels-despite-net-zero-pledges-study] By Fiona Harvey, The Guardian. Excerpt: Banks and finance institutions that have signed up to net zero pledges are still investing heavily in fossil fuels, research has shown, …. The Glasgow Financial Alliance for Net Zero (GFANZ) initiative was launched by the former Bank of England governor Mark Carney, as one of the main UK achievements in hosting the Cop26 UN climate summit at Glasgow in 2021. The UK boasted at Cop26 that 450 organisations in 45 countries with assets of more than $130tn had signed up to GFANZ, to align their investments with the goal of limiting global temperature rises to 1.5C above pre-industrial levels. But its members have poured hundreds of billions into fossil fuels since then, according to data compiled by the pressure group Reclaim Finance….
2023-01-12. Exxon Scientists Predicted Global Warming, Even as Company Cast Doubts, Study Finds. [https://www.nytimes.com/2023/01/12/climate/exxon-mobil-global-warming-climate-change.html] By Hiroko Tabuchi, The New York Times. Excerpt: In the late 1970s, scientists at Exxon fitted one of the company's supertankers with state-of-the-art equipment to measure carbon dioxide in the ocean and in the air, an early example of substantial research the oil giant conducted into the science of climate change. A new study published Thursday in the journal Science found that over the next decades, Exxon's scientists made remarkably accurate projections of just how much burning fossil fuels would warm the planet. Their projections were as accurate, and sometimes even more so, as those of independent academic and government models. …Yet for years, the oil giant publicly cast doubt on climate science, and cautioned against any drastic move away from burning fossil fuels, the main driver of climate change. Exxon also ran a public relations program — including ads that ran in The New York Times— emphasizing uncertainties in the scientific research on global warming….
2023-01-11. The New Soldiers in Propane's Fight Against Climate Action: Television Stars. [https://www.nytimes.com/2023/01/11/climate/climate-propane-influence-campaign.html] By Hiroko Tabuchi, The New York Times. Excerpt: An industry group is spending millions of dollars to push back against efforts to move heating away from oil and gas. …The Propane Education and Research Council, or PERC, which is funded by propane providers across the country, has spent millions of dollars on "provocative anti-electrification messaging" for TV, print and social media, …. …"The movement to electrify everything is rapidly gaining momentum, and poses a substantial threat to the sustainability of our industry," he said, according to meeting minutes….
2023-01-01. Extinction Rebellion announces move away from disruptive tactics. [https://www.theguardian.com/world/2023/jan/01/extinction-rebellion-announces-move-away-from-disruptive-tactics] By Robert Booth, The Guardian. Excerpt: The climate protest group Extinction Rebellion is shifting tactics from disruptions such as smashing windows and glueing themselves to public places in 2023, it has announced. A new year resolution to "prioritise attendance over arrest and relationships over roadblocks", was spelled out in a 1 January statement titled "We quit", which said "constantly evolving tactics is a necessary approach". …XR is calling for 100,000 people to "leave the locks, glue and paint behind" and surround the Houses of Parliament on 21 April….
Non-chronological resources
Climate Change Solutions Simulator – EN-ROADS (developed by Climate Interactive, Ventana Systems, and MIT Sloan)
Climate Change Education.org

Climate Communication – Making Science Heard and Understood. This is a a nonprofit organization dedicated to furthering the scientific understanding of Earth systems and global environmental change, funded by the Rockefeller Brothers Fund and the ClimateWorks Foundation. A project of the Aspen Global Change Institute.

Climate Stabilization Targets: Emissions, Concentrations, and Impacts over Decades to Millennia (2011). Board on Atmospheric Sciences and Climate (BASC). National Academies Press.

Do the Math

"Earth: The Operators' Manual" is an uplifting antidote to the widespread "doom and gloom" approach to climate change. Host Richard Alley leads the audience on a one-hour special about climate change and sustainable energy.
http://earththeoperatorsmanual.com/

Offsetting your carbon (or climate) footprint allows you to become part of the solution to climate change by supporting the reduction of carbon dioxide emissions equal to your carbon footprint.

See more on carbon offsets.

"Plan B 3.0: Mobilizing to Save Civilization" by Lester R. Brown. A book about how to build a more just world and save the planet from climate change in a practical, straightforward way. Available for purchase and free download.

Skeptic Arguments and What the Science Says from Skeptical Science.

The Scientific Guide to Global Warming Skepticism by John Cook, from Skeptical Science.

Volcanoes–do they emit more CO2 than humans? See also article: Volcanic Versus Anthropogenic Carbon Dioxide

Young Voices on Climate Change videos (3-6 minutes each) present positive success stories of youth, 11-17, finding local solutions to the global warming crisis, reducing the CO2 emissions of their homes, schools and communities. The videos document win-win scenarios such as four Florida middle school girls who do an energy audit and save their school $53,000. Produced and directed by author/ illustrator Lynne Cherry, co- author of How We Know What We Know About Our Changing Climate: Scientists and Kids Explore Global Warming. http://YoungVoicesonClimateChange.com.